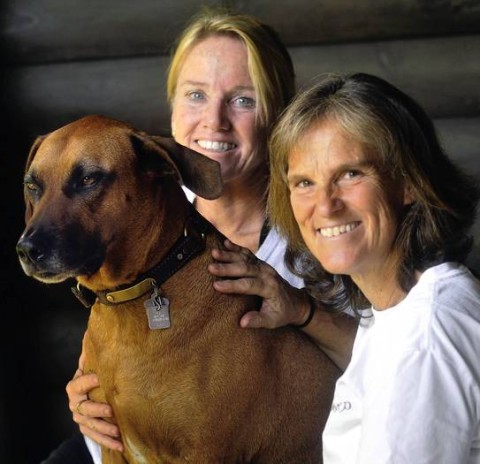 Spring weather had yet to arrive on the April night when Sabrina and Paul Buehler hosted an outdoor party at their rural North Stonington home to honor Connecticut-African friendships. The wind blew hard on the hilltop, and everyone was cold, especially the man and the dog from Africa.
Jimmy Ndiritu of Kenya was the guest of honor, brought to Connecticut by the Norwich-based American Friends of Kenya. Offered the chance to move inside, he quickly took it.
And Tao, the Rhodesian Ridgeback dog from Zambia that the Buehlers had adopted via their work with North Stonington-based Friends of Chikumbuso, seemed sulky.
Tao had just survived his first New England winter, and it had been an especially rough one. At times snowdrifts had blocked the door of the Buehlers' log cabin house.
On top of that, Tao still hadn't figured out precisely what his job was here. It's in his DNA to be a protector, but that means something different in Lusaka, Zambia's capital, where Tao lived behind high walls, than in suburban southeastern Connecticut.
According to Tao's original owner, Linda Wilkinson, Tao translates as "lion" in Zambia's Lozi language. This dog has never hunted lions, as his ancestors were bred for. But his lion-sized will must be taken seriously.
Linda and her husband, Bruce, moved to Zambia in 2003. Bruce was then a senior vice president with World Vision, a Christian-based non-governmental organization that had just won a major grant from the President's Emergency Plan for AIDS Relief.
While Bruce managed multiple AIDS relief agencies, Linda launched Chikumbuso ("remembrance" in Lozi) to provide education and job training for widows and orphans with AIDS. The Buehlers got involved after Bruce, a North Stonington native, invited them to a local talk about his wife's project.
Sabrina first saw Tao on a visit to Zambia in 2007. The dog was tearing toward her inside the metal gates to the Wilkinsons' Lusaka home, and "he was scary," she recalls. But before long, inside the house, Tao's chin was on Sabrina's knee. "He's a pussycat," she says, "when he gets to know you."
One morning this summer, first owner Linda visited Sabrina and Tao, bringing her 11-year-old son, Isaac, and Tao's 3-year-old offspring, Hunter.
When Isaac was a baby, Linda recalls, a friend brought over a Rhodesian Ridgeback and she was stunned by how gently and patiently the imposing dog let Isaac pet him. "I thought, 'I want a dog just like that.'"
She never had any illusions, however, about what it would take to raise and keep one of these "African lion hounds."
Linda assumed it would be easy to find a Rhodesian Ridgeback when she moved to Zambia, formerly northern Rhodesia. But the dogs, originally bred in South Africa, were rare in a poor country where the average dog is a homeless mutt scrounging for scraps in the street.
It took a year for Linda to find Tao, purchased for $250 — a pittance for a purebred dog in the U.S., but in Zambia, a small fortune.
With their sleek, powerful frames, beautiful tan or reddish coats and distinctive ridges along their backs, Rhodesian Ridgebacks attract attention wherever they are — all the more reason to manage them properly.
"The biggest thing about them in the first two years," says Linda, "is that you have to train them. They really have a will, and definitely have to know who is boss."
Putting a dog in his place is not something Americans are known for, and Sabrina laughs recalling Kenyan visitor Jimmy Ndiritu's answer when she asked him what he found most shocking about American life.
"Jimmy said that without a doubt it's that Americans let dogs in their houses, and even sleep with them!"
The Wilkinsons left Zambia in May 2012 so that Bruce could take a job with the Catholic Medical Mission Board in Manhattan. Linda insisted that Tao and Hunter move with them. The family spent the summer at their lake house in North Stonington. But come fall, they would move to Brooklyn.
The lake house has close neighbors, and Tao swiftly set about claiming all the property as his own, challenging neighbors on their own turf. There were "some run-ins," says Linda. "Tao was a confused and very unhappy dog."
Hunter, the younger Ridgeback, had smoothly adjusted to American life. But Tao seemed destined for even more trouble in the Park Slope neighborhood of Brooklyn, where the streets are crowded with dogs and children.
Linda realized she might have to give Tao up, but worried what could happen if this lion of a dog wound up in the wrong hands. That's when the Buehlers, who had come to know and love Tao, came to the rescue, offering him plenty of room to roam on their 12 secluded hillside acres.
To date there have been no reported mountain lion sightings in the area, and Tao appears to have no designs on the local wildlife. And while this majestic African dog may not realize it, all the paths here lead in some respect to Zambia.
To benefit Chikumbuso, the Buehlers invite visitors to pay a small donation to use their outdoor pizza oven and an 18-hole disc golf course. Tao is either properly introduced or temporarily secluded.
The disc golf course conveniently ends at their daughter Carly's former playhouse, now a Chikumbuso store offering hand-made African crafts such as stunning bags crocheted by Zambian widows from plastic scraps found on the streets. Carly is now a teacher at the Chikumbuso School in Lusaka.
In a happy postscript, this summer the Wilkinsons decided to leave Brooklyn and live year-round at their North Stonington lake house. Now Linda can visit her beloved Tao whenever she wants.
"Instead of giving him up," she says, "we've just extended his family."
For more information about Chikumbuso Women's and Orphans Project, visit www.chikumbuso.com.
MORE ON [SOURCE]