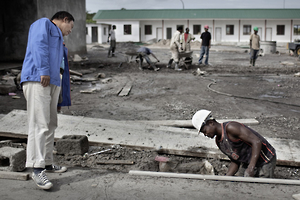 SOME suspected charcoal burners have torched a conveyor belt at Luanshya Copper mines PLC.
Public relations officer Sydney Chileya confirmed the development in an interview yesterday, saying 80 metres of the 11.4 kilometre belt was burnt yesterday.
He said the burnt belt was part of the line that transports copper ore from Baluba shaft to the smelter at the main plant in Luanshya.
"Details on how the part of the belt was torched by the suspected charcoal burners I do not have. I am waiting for a report from the officers investigating the incident at the scene," Mr Chileya said.
He said after the investigations, the mine would be able to establish how the suspected charcoal banners torched the line.
Commenting on whether the mine would shut operations to pave way for replacement of the belt, Mr Chileya said the he would not comment until he consulted the operations director today on the extent of the damage.