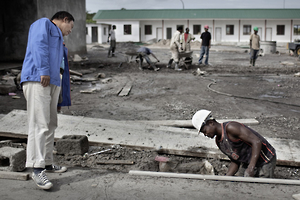 CHINESE Ambassador  to  Zambia Zhou Yuxiao has urged Chinese companies operating in Zambia to train their Zambian employees in various skills to enable them take up strategic positions in the companies.
Mr Zhou said when Chinese investors come to Zambia, it was fine to bring workers from china when setting up companies but as businesses grew, they should engage more Zambians in running them in order to create employment for  the local people.
"I urge the Chinese employees to leave the jobs that can be done by Zambians to the Zambians, it is wrong for Chinese people to be doing jobs that can even be done by Zambians," he said.
Mr Zhou said this at the launch of the CAMCO equipment limited 15th anniversary.
He said during the 15 years that CAMCO had being operating in Zambia, it had managed to train and employ more than 500 Zambians.
Mr Zhou said CAMCO was one of the leading companies that aim at empowering local farmers by supplying durable and affordable agricultural equipments.
And speaking at the same event, Agriculture and Livestock deputy minister Rodgers Mwewa said government was committed to partnering with the private sector to stir the economy, increase growth and improve the livelihood of the Zambian citizens through job creation and increased productivity.
"I urge the private sector to partner with government in ensuring the narrowing of inequalities in wealth distribution through the implementation of  pro-poor development policies such as empowering the rural population through the provision of farming implements such as farming equipment, food processing equipment which will bring about high productivity and value addition," he said.
Mr Mwewa said government recognised the significant role the private sector played in complimenting its efforts to drive  the  economy  forward.
He said it was good to see that CAMCO was such a company that had contributed greatly to the agricultural sector and the construction industry through  the supply of quality and affordable equipment.
He said the supply of such equipment had been critical to the enhancement of entrepreneurship spirit among the Zambians.
Mr Mwewa said government was aware to the challenges affecting the agricultural sector such as the inadequate skilled labour, high cost imported equipment and the lack of appropriate farming implements for small-scale farmers.
He, however, said it was gratifying to note that CAMCO equipment has over the years made strides in addressing some of these challenges through continued expansion of not only the business but the range of equipment and machinery that  the company had been able to supply and taking closer to the end users.