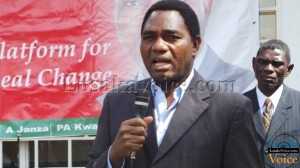 United Party for National Development Leader Hakainde Hichilema has demanded that the decision to indefinitely close Copperbelt University be rescinded.
Speaking during a media briefing in Lusaka today, Mr. Hichilema has accused the PF government of having no respect for education.
Mr Hichilema says education is very important, hence the need to ensure that all the challenges being faced at the Copperbelt University are resolved without delay.
And Mr Hichilema has maintained that acting Chief Justice Lombe Chibesakunda should resign because her continued stay at the helm of the judiciary is no longer tenable.
He says his party has since notified the Police to stage a peaceful demonstration ON 21st August against the continued stay of Chief Justice Lombe Chibesakunda.
Meanwhile former MMD Sinjembela Member of Parliament Mubika Mubika and former MMD Mkushi North candidate in the just ended parliamentary by-elections Davies Kapungwe have joined the UPND.
Mr. Mubika says he has decided to join the UPND because it is the only party that is capable of providing salvation to the Zambian people.