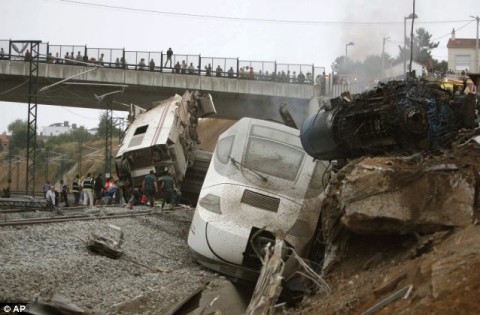 At least 77 people were killed last night when an express train derailed in northern Spain, with one British citizen confirmed among the injured. 
Other passengers were still trapped in the wreckage and there were fears that the death toll could rise as rescue teams continued their grim task of trying to free survivors hours after the accident.
Many of those on board were thought to be travelling to a major religious festival in the nearby city of Santiago de Compostela, site of a Catholic pilgrimage.
The passenger train derailed outside city of Santiago de Compostela
Emergency services working to free injured from the wreckage

Eyewitnesses say that the train was on a bend when it derailed

One eyewitness said he heard a bang before the train came off tracks

The train was carrying 218 passengers when it left the rails

Many were travelling to the area on the eve of a Christian festival

Foreign Office confirms a British citizen is among the injured
The train was en route from Madrid to the naval port city of Ferrol, in the Galicia region. The accident happened at about 8.40pm local time – 7.40pm in the UK – on a bend less than two miles from a scheduled stop in Santiago. The train was said to be filled with people on the way to the city's annual St James the Apostle Festival, which was to have begun last night with a massive fireworks display. The annual ceremony was cancelled as soon as the gravity of the accident became apparent. A radio reporter on the scene said the whole train had derailed.   Prime minister Mariano Rajoy, who comes from the Galicia region, was planning to set out for Santiago. The head of the Galicia region, Alberto Nunez Feijoo, said it was too early to say what had caused the derailment. As casualties were taken to hospitals in Santiago and two other cities in the region, authorities appealed for people to donate blood. Neighbours responded to calls from the police to bring blankets and sheets to the scene along with bottles of water. As darkness fell, generators and emergency lighting were brought in to help the rescue teams. The derailment is one of the deadliest train crashes in Europe in the past 25 years. In November 2000, a train packed with skiers caught fire in a tunnel in Austria, killing 155 people.   MORE ON [SOURCE]