THE 50,000 capacity stadium under construction in Lusaka will be named Gabon Disaster Heroes National Stadium after the Zambia national soccer team that perished in the 1993 Gabon air crash.
Cabinet approved the name during a Cabinet meeting in Lusaka on Monday.
Minister of Sport and Youth Chishimba Kambwili confirmed in an interview in Lusaka yesterday.
"Cabinet has finally approved the name of Lusaka stadium, which will be called Gabon Disaster Heroes National Stadium. This is in honour of our national football team that perished in 1993 while on national duty," Kambwili said.
He said there is need to honour the players and officials, whose remains are buried near the ultra-modern stadium.
Kambwili thanked Cabinet for the gesture, saying the move will enable the contractor Shanghai Construction to do final touches among them fitting chairs bearing the name of the stadium.
The stadium, which is about 85 percent complete, is expected to be handed over to Government at the end of this year.
The Zambia Air Force Buffalo plane plunged into the Atlantic Ocean off the coast of Libreville killing all the 30 passengers on board among them 18 players on April 28, 1993.
The team was on its way to Dakar for a 1994 United States of America World Cup qualifier against Senegal.
The team:
Efford Chabala (goalkeeper), John Soko (defender), Whiteson Changwe (defender), Robert Watiyakeni (defender), Eston Mulenga (midfielder), Derby Makinka (midfielder), Moses Chikwalakwala (midfielder), Godfrey Kangwa (midfielder), Kelvin Mutale (striker), Wisdom Chansa (midfielder), Timothy Mwitwa (midfielder), Numba Mwila (midfielder), Richard Mwanza (goalkeeper), Samuel Chomba (defender), Moses Masuwa (midfielder), Kenani Simambe (striker), Winter Mumba (defender) and Patrick Banda (midfielder).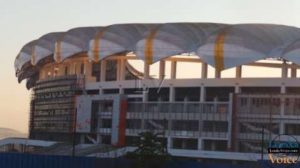 Others are Godfrey 'Ucar' Chitalu (coach), Alex Chola (assistant coach), Wilson Mtonga (physiotherapist), Michael Mwape (FAZ chairman), Wilson Sakala (FAZ committee member), Nelson Zimba (government representative) and Joseph Bwalya Salimu (journalist).
The rest are colonel Fenton Mhone (pilot), Lt colonel Victor Mubanga (co-pilot), Lt colonel James Sachika (co-pilot), warrant officer Edward Nambote (fitter) and corporal Tomson Sakala (steward).