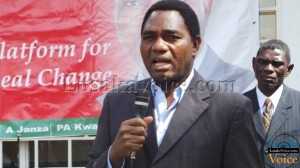 GOVERNMENT says calls by United Party for National Development (UPND) president Hakainde Hichilema for acting Chief Justice Lombe Chibesakunda to resign are unfounded and unnecessary.
This is according to chief government spokesperson Kennedy Sakeni, who is also Minister of Information and Broadcasting Services.
He added that the Chief Justice won't resign.
Mr Sakeni said there is no need for Justice Chibesakunda to resign because she was legally appointed to office and that Mr Hichilema is making the call out of frustration because his political fortunes have evaporated.
"The calls are unnecessary and unfounded.  Mr Hichilema's outbursts are not new. They are a manifestation of his deepening frustration and bitterness at his stalled political fortunes," he said.
"The acting Chief Justice is in office legally. There is nothing that warrants her to resign in 15 days' time as demanded by Mr Hichilema," Mr Sakeni said.
Mr Hichilema called for Justice Chibesakunda's resignation earlier this week and repeated the call yesterday in Lusaka.
He said it is not correct for Mr Hichilema to vent his anger on institutions such as the judiciary that cannot defend themselves in public by virtue of office.
Mr Sakeni instead advised Mr Hichilema to address his party's leadership inadequacies instead of attacking the judiciary.
He said the Patriotic Front (PF) government is committed to upholding the rule of law and the principle of separation of powers.
"The government, under the leadership of His Excellency President Michael Chilufya Sata, re-affirms its commitment to the rule of law and the principle of separation of powers among the various institutions of the State in deepening and preserving the country's democracy," he said.
And deputy Minister of Information and Broadcasting Services Mwansa Kapeya has advised the media to exercise the highest levels of ethical and professional standards in their reporting.
Mr Kapeya said the media should at all times stick to the fundamental tenets of journalism: truth, accuracy, fairness and balance in their reporting.
He said it is unprofessional and unacceptable for media houses to sensationalise and exaggerate issues out of context and that they should desist from doing so.
"The media is further reminded that press freedom is not absolute. It is equidistant to responsibility. The media cannot have more of freedom and less of responsibility in their reporting," Mr Kapeya said.
Mr Kapeya's statement follows a story in a local tabloid newspaper titled 'Sata has resigned?'  He said the story did not in any way warrant such an alarming and sensational headline.
"Such misleading, alarming and unsubstantiated story headlines have become commonplace in this tabloid in an apparent ploy to attract the unsuspecting members of the public to buy the newspaper," he said.
He said Government will continue to create an enabling environment for the media to thrive and has since called on media bodies such as MISA and PAZA to intensify campaigns on the need to uphold media ethics.