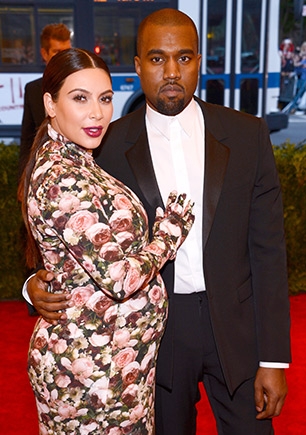 Kanye West's baby girl has arrived. A source confirmed to Us Weekly that Kim Kardashian gave birth today at Cedars-Sinai Medical Center in West Hollywood.
The baby is the first for 32-year-old Kardashian, who started dating West, 36, in the spring of 2012. The father-to-be let news of the pregnancy slip during a show in late December, when he asked the crowd to "make some noise for my baby mama right quick."
Rick Rubin: Kanye West Lets His Art Lead
Kardashian was originally due on July 11th, but a source at the hospital said that everyone was doing well despite the early delivery. The baby's name has not yet been announced.
According to TMZ, West was in the delivery room for the birth, having canceled a record release party on Friday night after Kardashian said she was feeling "a little off."
In a recent interview with the New York Times, West reflected on his impending fatherhood. "One of the things [I thought about] was just to be protective, that I would do anything to protect my child or my child's mother," he said, adding later, "This is my baby.
Read more: http://www.rollingstone.com/music/news/kim-kardashian-and-kanye-west-welcome-baby-girl-20130615#ixzz2WL5H1EyF
Follow us: @rollingstone on Twitter | RollingStone on Facebook