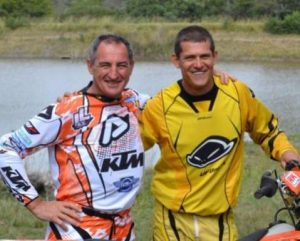 FORMER Zambia motor-cross champion David Reeve has returned to training in preparation for the Dakar Rally at the beginning of next year.
In interview Reeve who made his debut Dakar Rally appearance early this year said he was feeling fine and was training hard for the 2014 rally.
He said the injury he sustained during the Dakar Rally had healed and was not feeling any pain.
"I have been training for some time now and I'm not feeling any pain in my leg. The metal pin the inserted in my leg should be removed by August or October but I'm fine," Reeve said.
"I'm trying to get ready for the next Dakar Rally which should be starting by the end of this year and I hope I will be ready."
He said he would take part in any local competition in order to avoid injuries that would jeopardize his participation in the Dakar Rally.
"I think I have raced in Zambia for a long time. I won't be taking part in any competitive racing locally because I might get injured, I'm trying to avoid that for now," Reeve said.
Reeve had earlier targeted to return to the rally in 2015 but has made remarkable recovery is ready to compete again in the most dangerous rally in the world which involves motor racing, bike racing, truck racing and quad-bike racing.
Reeve could not finish the rally after crushing out with only four stages to go and had made impressive progress breaking into the top 30.
He said he would go back into the race with the same target of finishing among the top 20.
He however said he needed sponsorship and support from everyone if he was to achieve his goal.
"Right now am desperate for sponsorship because the race involves lots money. But the fans have been fantastic and have supported me when I do exhibitions at different functions," he said.
The 2014 Dakar Rally will be staged in Argentina, Bolivia and Chile.