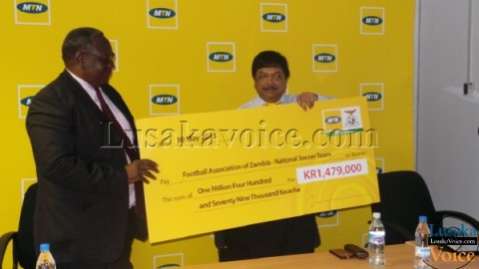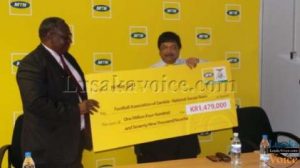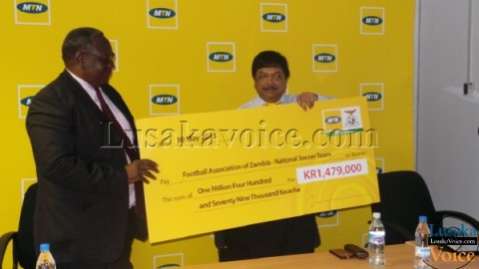 MTN Zambia has handed over a cheque worth KR1, 479, 000 to the Football Association of Zambia as sponsorship for the 2013 soccer season.
MTN Zambia chief executive officer Abdul Ismail handed over the cheque FAZ acting general secretary Sam Phiri in Lusaka yesterday.
Phiri assured MTN that their investment in football would go a long way in motivating the national team qualify to the 2014 Brazil world cup and raise the standards of the league in the country.
"This shows that our partners are confident in the team and the administration.  We will ensure that the team maintains its top spot in group D after the next two crucial world cup qualifiers in June," Phiri said.
MTN took over the sponsorship of the FAZ Super league Zambia Breweries in 2010 has also gone further to support the national team.
Phiri challenged other corporate companies to emulate the good work that MTN was doing by partnering with FAZ to support the game that a lot of Zambians love.
"There are no easy games and we are calling on the fans to come in large numbers to cheer the team. We have slashed the gate charges by half in order to have more support at the stadium," he said.
Meanwhile MTN chief marketing officer Clement Asante said the mobile service company was happy to see the football improving every year since it started its sponsorship.
Asante said the company would remain committed to supporting FAZ for both the league and the national team.
"We have seen tremendous growth in the league and the national team. The 2012 Africa Cup success by the national team is something we hold dear to our hearts," Asante said.
"And in the league if we are to talk about what is happening this season, we can see that the giants are awakening."