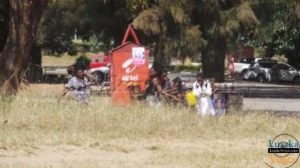 President Michael Sata has directed Lusaka province police commissioner Joyce kasosa to arrest all students protesting against the lifting of the fuel and maize subsidies.
The head of state sounded the order shortly before he laid ground for the contraction works for Palabana University in Chongwe district this morning.
President Sata has also accused United Party for National Development (UPND) leader Hakainde Hichilema for allegedly dishing out money to students at University of Zambia Great East campus and Copperbelt University to protest against government's decisions to lift the fuel and maize subsidies.
Qfm staffer Yande Musonda reports that President Sata also commended Chieftains Nkhomeshya for her developmental ideas she has been executing in her chiefdom.
The head of state assured chieftains Nkhomeshya that the Patriotic Front government will remain committed to implementing development projects in her chiefdom.
Vexed with government's decision to remove subsidies on mealie meal and fuel, University of Zambia students have launched a black Friday campaign aimed at pressurizing government to reverse its decision.
As of this morning police in riot gear surrounded the University premises in redness to any possible protest.
Meanwhile, police on the Copperbelt have sealed off Muvi Television Ndola studios in anticipation of protests by Copperbelt Students over the recent announced removal of fuel and maize subsidies.