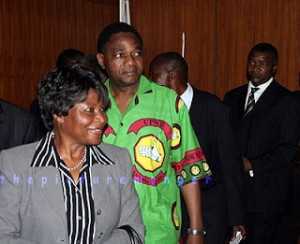 THE Patriotic Front youth leadership has wished well United Party for National Development (UPND) president Hakainde Hichilema's wife, Mutinta, who is reportedly in India for medical treatment.
The PF leadership says it is keeping Mrs Hichilema in daily prayers.
Lusaka Province PF youth chairman Kennedy Kamba said Mrs Hichilema as wife of the opposition leader and mother to his children should be prayed for.
"As a party, we are praying for her quick recovery," he said.
But most top leaders of the UPND declined to comment on the matter, saying they are not aware of the illness.
Spokesperson Charles Kakoma said: "I am not aware about that. I am in Uganda. Ask someone on the ground."
Mr Hichilema's special advisor Douglas Siakalima said: "I'm not privy to that," while deputy party spokesperson Cornelius Mweetwa who is in Mongu, said if Mrs Hichilema is undergoing treatment in India, it would remain a "private matter".