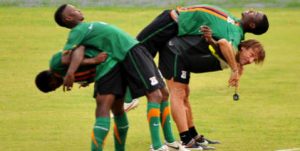 MOZAMBIQUE assistant coach Helber Nuianga says history does not favor his side against Zambia ahead of the Cosafa senior challenge in July.
Niuanga said in an interview that the draw against Chipolopolo was tricky as his team has never beaten Zambia in previous meetings.
"It is very tricky, history is against us because we have never won a match against Zambia. The best result we got was a 1-1 draw in Mozambique," Nuianga said.
"It is a tough match and calls for serious preparations. We want to go as far as we can in the tournament but we know it is never easy against Zambia."
Hosts Zambia were drawn against their customers Mozambique in the quarter final of this year's Cosafa senior challenge.
Nuianga who was popularly "Manu Manu" during his playing days said Zambia would be favorites to win the tournament because of their recent achievement.
"Even they (Zambia) didn't very well at the last Africa Cup, they are still fresh from winning the 2012 AFCON. They will definitely start as favorites especially that they will be playing at home, I don't see any team beating them," Nuianga said.
He said the technical bench had assembled a new young team which would learn a lot by playing against Zambia.
He said the tournament was a good platform to expose players to stronger opposition like Zambia.
"My boys have a lot of determination and are very confident, I know they will give Zambia a run for their money but the most important thing is they gain some experience by playing a big team like Zambia," he said.