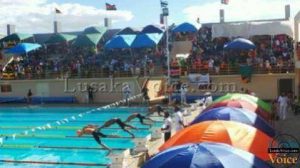 CANA general secretary Ben Ikumbo said this during the closing ceremony of the four-day CANA Zone Three and Four swimming gala held at the Olympic Youth Development Centre (OYDC) in Lusaka.
Ikumbo said Zambia had been considered to host the junior championships by CANA because of the good facilities and having managed to successfully host the four-day championship.
He showered praise on the Zambia Amateur Swimming Union for organising one of the best galas the region had ever witnessed and also commended the swimmers for keeping improving with each tournament.
"We are happy as CANA for Zambia has managed to stage a successful event and it is one the region has seen. It is for that reason that we have decided to give Zambia the rights to host the junior's event later this year and may I also commend the swimmers for keeping improving on their timing," he said.
Ikumbo said Zambian swimmers had shown consistency during competitions and that he was hopeful that they would perform well and mint more medals when the tournament is held.
Meanwhile, Uganda is the next nation to host the 11th edition of the CANA Zone Three and Four championships next year.
Uganda's delegation leader Ibrahim Mapetela said the country was ready to host the championship.
Mapetela said his country had come a long way and that hosting the swimming gala would highlight Uganda's swimming prowess.
He said Uganda was looking forward to hosting the championship to be
held in Kampala.
Acting Sports Permanent Secretary Boniface Nalishiwa said Government was committed to supporting the hosting of championships like the CANA swimming gala and encouraged Team Zambia to perform even better next time.
Nalishiwa said the Government built the Legacy swimming Pool so that the swimmers could use it to the fullest and perfect their skills in readiness for the various international competitions.