Soon after I arrived in Southern Rhodesia (as was), an old ciKaranga-speaking man asked me to help him interpret his dream. Bill Rushton, our well-loved Methodist minister, later explained how this chap was always having dreams. It seems to have been largely the influence of Old Testament stories which caused this phenomenon among African Christians.
At about the same time, Alice Lenshina in Northern Rhodesia also had a dream. She was taken to Heaven and sent back as a messenger and prophet of God. The followers of her Lumpa sect grew to such numbers that she established a village, Sione (Zion), and built a huge church in the Northern Province.
In the early 1960's, UNIP was also growing rapidly. In the Chinsali area, party officials tried to persuade Lumpa disciples into registering as voters and joining a political party. There was violence, and several people were killed in the disturbances of 1963-­64. An army onslaught in July 1964 saw the village razed to the ground and over 70 followers killed and many injured. There were reprisals and more killing. Alice Lenshina surrendered and was placed in detention.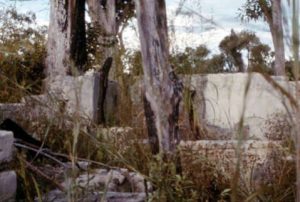 When I visited the site in April 1967, the bush had almost concealed what remained of the village. My guide, who lived in the area, told me that official press reports of 70 deaths were wrong. "They crawled out of the bush for weeks afterwards". Confirming the rumour that Alice had given her followers pieces of blessed paper which would protect them from bullets, he put the death toll at more like 700, and "the wounded came crawling out of the bush for weeks afterwards".
The full story is told in Richard Hall's Zambia, Pall Mall Press, London 1965, featured elsewhere in this section. Hall points out that Kenneth Kaunda did what he could to reconcile differences and prevent the violence.
In 1967, the enormous church, as long as a European gothic cathedral but now empty, dominated the devastated area.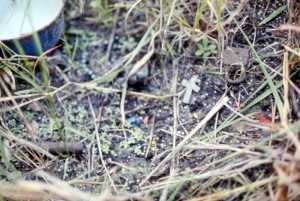 The church was surrounded by heaps of objects and artefacts which disciples had thrown away when they joined the sect. Roman Catholic rosaries and missals were put into one hut. Methodist Hymn Books went into another. The utensils of witchcraft had their own hut. Even traditional tribal artefacts which had no magical use were jettisoned.
These items were now almost buried beneath the soil and creeping undergrowth. It was an eerie, sad sight. We also saw what used to be a hut where Bemba women threw their initiation pots.
Although I questioned his gesture, my guide gave me two Bemba Chisungu pots, pointing out that their original owners had rejected them. They are certainly the most unusual, and rarest, items in my collection.
Full details of the initiation ceremonies, and the meanings of the pots, can be found in Chisungu A Girl's Initiation Ceremony among the Bemba of Northern Rhodesia, Audrey I. Richards, Faber and Faber, London 1956. The photographs in the book show that, unlike Australian Aboriginal ceremonies, the ritual was not secret women's business. This eases my conscience over the fact that I was given the pots, which now sit on my hearth amidst artefacts from several countries, a reminder of the fascinating and sometimes violent story of Zambia.