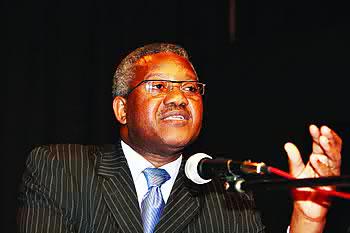 President Michael Sata has suspended Zambia Railways Limited (ZRL) Chief Executive Officer Professor Clive Chirwa pending investigations by the Anti-corruption Commission (ACC) on allegations of corruption levelled against him.
In his letter to Prof. Chirwa dated April 22, 2013, President Sata confirmed that he has suspended the ZRL Chief Executive Officer due to several corruption allegations levelled against him.
This is according to a press statement made available to ZANIS by President Sata's Special Assistant for Press and Public Relations George Chellah.
"I am suspending you from duty and you will be on half pay; and as part of other conditions you will have to vacate the lodge and wait in the Zambia Railways Limited accommodation until the matter is completed," read President Sata's letter in part.
Mr. Sata said by copy of his letter to Prof. Chirwa, the Anti-Corruption Commission had been instructed to carry out full investigations concerning the allegations of corruption in Zambia Railways Limited.
And President Sata has with immediate effect appointed Ministry of Transport, Works, Supply and Communications Permanent Secretary Muyenga Atanga to take charge of Zambia Railways Limited.
President Sata said the appointment will require Dr. Atanga to take charge of the rail line including the inter mine rail, which is so critical to the running of the mining sector.
The Patriotic Front (PF) Government has time and again reiterated its commitment to revamping the railway network and make into a rail system which will create the necessary economic drive.
Minister of Transport and Communications Christopher Yaluma recently dissolved the board of Zambia Railways and announced that forensic investigations and audits will be instituted to ascertain the truth on alleged gross mismanagement of the company.
Board Members that include former Taskforce on Corruption chairman Mark Chona as chairperson and economist Oliver Saasa accused Prof. Chirwa of demanding hefty allowances that included a K248 million monthly salary and K72 million for rent.
But Prof. Chirwa has accused the board of demanding K500 million for board sittings which he said he had refused to sanction.