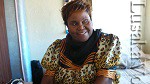 AT Sixty three yet still vibrant and energetic  she has registered a signature in film industry, music, marketing and counselling but her age leaves more questions than answers because of how she manages to carry out many tasks and succeed.
She is known as Mama ' Caretaker' by most of her fans because of her signature caretaker track that took Zambia by storm few years ago and is undoubtedly still registering positive billing on the Zambian musical charts.
She is Mama Nyongo of the Caretaker firm coming to the fore yet again  this time with a double impact as she unleashes the 'Best of Mama Nyongo eight-truck video album Volume one and Chikondi Cha Mulungu 11 track audio album.
The multitalented artiste says she feels on top of the world to have achieved this project though she says everything is credited to God.
In her latest release, Mama Nyongo opens with the track Ndine Ndani (who Am I) which features one of Zambia's vocal powers Winstone Moyo.
In this track, she puts the glory of God first and asks a simple question to say who am I before the grace of God?
The second track, which she has titled Personal-to-holder, the experienced marriage counsellor brings the issue of love to play. She says when love and trust lead between a newly-married couples, each of the couple will have his or her partner as personal-to-holder.
The sixth track is the one that features Alick Miti and has a self-explanatory title, Rejoice which is followed by another praise track Ayesu Nili Nao I am with Christ she says.
Number eight is the title track itself Chikondi Cha Mulungu (the love of God). In explaining the track, she says the love of God is so amazing that it had enabled her to register success in her life despite the age. The ninth track is done in Bemba and is titled Ndemilumbanya (I praise you). It features Bersha Rodney and Alick Miti.
The second last track is entitled Ambuye adzabwelanso (God is coming again). In the track Mama Nyongo is spreading the world about the second coming of Christ and that is true.
The eleventh track is the signature tune itself Caretaker which she has put in as a bonus track in the album.
Mama Nyongo is now working on her home studio which is almost complete with construction works, she is now working on equipping the studio room which she says will be done by the beginning of May this year.