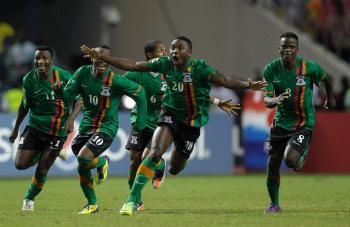 "It's not the end of the road, but I hope we won't regret the two points dropped in this match when we come to the end of this qualification phase,"  says Chipolopolo head coach Herve Renard.
Reviewing the 1-1 draw against Lesotho, Renard told journalists at Sesotho stadium that the result against Lesotho's Likuena "felt like a defeat."
"It's not a good result for us especially when we were leading and it was the end of the match. We go to seven points now and I hope we will not regret this result," Renard said adding: "We are still on the road to Brazil and like I said, I hope we won't regret the points we dropped today."
He said his squad should have been more efficient and tactically superior especially after the sending off of goalie Mweene.
"When Kennedy Mweene was given a red card, we changed the tactic to counter attack and that's when we should have closed the game after scoring, but we were poor tactically," The Fox, as the Zambia trainer is fondly called said.
He lamented the poor form of most of his big name stars saying they were not playing to their full potential.
"One problem we have in the team is that so many players are not playing well and to their full potential. Our players being at TP Mazembe has affected the national team," Renard said.
With the draw at the Sesoto, Chipolopolo moved to seven points and whatever the result between Ghana and Sudan in Kumasi Sunday night, Zambia remains top of World Cup qualifying Group D.
The next round of qualifiers is in June. Zambia is at home on 1st June against Lesotho then hosts Sudan on the 8th. Sudan on the other hand host Ghana on 1st June with the Black Stars then traveling to Maseru for their match against Lesotho on the 9th June.