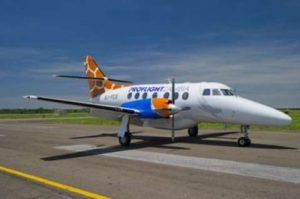 Proflight Zambia, has unveiled an unprecedented reduction in its fares in a move designed to provide more affordable air travel ahead of the United Nations World Tourism Organisation General Assembly (UNWTO) in August.
According to a statement released by Proflight Zambia yesterday the new package of fares is also aimed at encouraging passengers to plan ahead and book their flights earlier, and has been made possible by the impending introduction of a 108-seater Boeing 737 aircraft that will reduce the airline's operating costs on its trunk routes to Ndola and Livingstone.
Airlines' Director of Government and Industry Affairs Capt. Philip Lemba said Passengers who book more than 14 days in advance can now fly from Lusaka to Ndola or Livingstone for just KR250, with similar savings across the board on Proflight's other routes, Chipata, Mansa, Kasama, Lower Zambezi and Solwezi.
"With flight times of close to an hour on most routes, Proflight can now offer travellers a journey that competes favourably with road travel on both time and price,we have listened to the concerns of passengers and regulators about the cost of airfares, and now, thanks to the introduction of the 737 aircraft, we are able to respond to those concerns and reduce costs," explained Capt. Lemba.
He urged people to support their local airline and ensure the carrier becomes a standard-bearer that the nation can be proud of.
Proflight Zambia's decision to reduce fares comes in the wake of its plan to introduce a 108-seat Boeing 737 to its fleet, dramatically reducing the per-seat operating costs of its flights.
The twin-engine jet plane marks a milestone for Zambia's only scheduled airline, which celebrates 22 years of operation this year.
"The increase in seating capacity enables Proflight and its passengers to benefit from the economies of scale inherent in a large aircraft. The operating costs of a large aircraft are proportionately lower than those of a smaller plane. Airport landing fees, fuel and crew costs can thus be apportioned between greater numbers of passengers, bringing airfares down dramatically,"Lemba said.
He said One-way fares from Lusaka to Chipata will be KR700; KR1,025 to Kasama; KR855 to Mansa; KR650 from Kasama to Ndola; KR555 from Ndola to Mansa; KR1,025 from Ndola to Kasama via Lusaka; KR855 from Mansa to Ndola via Lusaka; KR630 from Ndola to Livingstone via Lusaka; KR670 from Ndola to Lower Zambezi via Lusaka; and KR720 from Solwezi to Livingstone via Lusaka.  Fares include all charges except NACL taxes which range from between K58 and K65 per flight.
Lemba said the aircraft is expected to be in place for the UNWTO conference in Livingstone in August, and will play a pivotal role in getting delegates to the venue, and raising the nation's standing in the eyes of the world's tourism industry.
The airline cautions that the Zambian domestic market is still very small, at around 110,000 passenger per year, compared with the Kenyan domestic market of around 3 million.  The airline's current fleet of 29-seat and 18-seat turbo prop aircraft will still need to serve most destinations. Fares on these flights will not be reduced