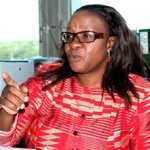 ———- Forwarded message ———-
From:
ZANIS News
<

[email protected]

>
Public workers challenged to scale up work performance
Lusaka, May 11, ZANIS ——Public Service Management Division (PSMD) Permanent Secretary Velepi Mtonga has challenged public workers to scale their work performance.
Mrs Mtonga said the only way public service workers will contribute positively to national development is when they scale up their performance.
She implored public workers to be diligent and proficient in their execution of their daily duties.
The Permanent Secretary revealed that very soon government will be paying public workers according to the input of their work.
She said the move has been welcomed by unions of linking a salary to the performance of a worker.
Mrs Mtonga explained that the linking of the salary to the performance of the worker is aimed at motivating public workers to be innovative and efficient in their discharge of national duties.
She started that good scaled up work performance from public workers should start showing to the general public who are the recipients of the services.
Meanwhile Mrs Mtonga has cautioned public workers to desist from being partisan in there discharge of national duties.
She said it wrong for any public worker to be partisan in there discharge of duties.
 Mrs Mtonga implored the public workers to work hard in implementing the government policies in a bid to improve the welfare of the people.
She explained that there is nothing wrong for a public worker to look at the PF manifesto as the PF is the part in government.  
Mrs Mtonga said public workers should always strive at supporting the government of the day.
And speaking earlier at the same function, Civil Servants and Allied Workers Union of Zambia (CSAWUZ) General Secretary Roy Beene admonished public service workers to change their perception towards work.
Mr Beene said the public service workers carry a very bad tag hence the need to change their attitude towards work.
He explained that the general public perceive public workers as a waste to maintain and a huge cost on the part of government.