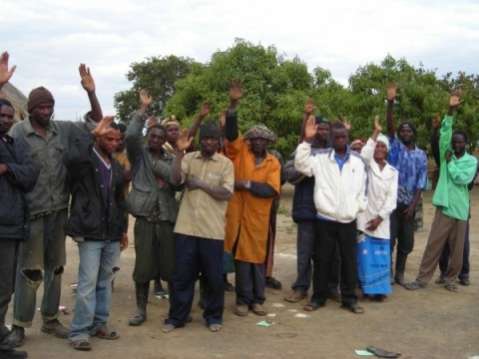 Efforts to eradicate the practice of Open Defecation (OD) in villages of Mkushi and Luano districts, have received a major boost following the training and equipping of all Environmental Health Technicians (EHTs) with Mobile surveillance skills and appliances.

AKROS Global Health delegation leader for the program, Annie Mutunda, explained that her organisation had implemented this intervention to boost the efficiency of gathering and disseminating data that pertained to sanitation and open defecation in the villages of the two districts.

Mrs Mutunda elaborated that AKROS had acted upon concerns that had arisen in the Community Led Total Sanitation (CLTS) programs that are aimed at enabling villages in the two districts to be open defecation free by 2015.

She said baseline study had revealed that the district had been performing poorly in aspects of data gathering and regular dissemination of reports regarding the CLTS attempts to achieve widespread open defecation free in villages.

She said that it was for these reasons that AKROS Global Health trained all the EHTs based in Mkushi and Luano districts in the application of mobile surveillance data collection and dissemination via the District Health Information System 2 (DHIS 2) software program.

Mrs Mutunda said her organisation had also extended similar trainings to Community Champions (CCs) representatives from all the wards in the two districts, saying the essence was on improving data collection at community level.
She further said AKROS had equipped all the EHTs and CCs with smart mobile phones for use in data collection and reporting, adding that the move was expected to impact positively on the quest to attain ODF status in all villages.

In a related development, CLTS National Legal Advisor and Coach, Michael Musenga, revealed that an average of 20 sanitation related cases had appeared in Courts in ten provinces in 2013 owing to CLTS legal enforcement efforts.

Mr Musenga stated that the impact of CLTS legal enforcement was on the upswing, adding that the CLTS approach to sanitation had been endorsed by Government and had become mainstreamed in the Local Government and Housing Ministry.

He said this was evidenced by CLTS national statistics which showed that 200 owners of premises were cited for violation of the Public Health Act Cap 295 related to sanitation.

He added that violation of the Food and Drugs Act Cap 303 was amongst the other laws that had featured prominently amongst CLTS legal enforcement activities during 2013.

Mr Musenga defended the CLTS stance of scaling up legal enforcement, saying the essence of prosecuting offenders and enforcing sanitation was aimed at saving lives of people from disease outbreaks.

He said it was important for Mkushi residents to acknowledge that the objective of the CLTS legal enforcement aimed at upholding good sanitation that posed no danger to people in the communities.

AKROS Global Health, a Non-Governmental Organisation (NGO), conducted a five-day training workshop in Mkushi with the aim of boosting the CLTS—ODF efforts in aspects such as mobile surveillance data gathering and dissemination.